Shin Chan-young, CEO of Neuroventi, "Challenge in developing the first…
본문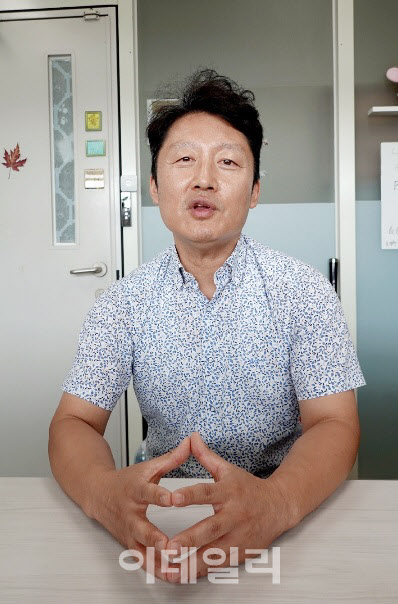 Shin Chan-young, CEO of Neuroventi, "Challenge in developing the first new drug for autism through drug re-creation"
23-09-05
Securing two candidate substances for autism treatment through drug re-creation
"We plan to apply for phase 2 clinical trials of NV01-A02 within the year"... Clinical trials for electronic medicine for autism are also in progress.
Entered the non-clinical consignment development service and natural product health food business.
2023-09-05
[Edaily Reporter Kim Jin-ho] "Based on big data analysis and long-term research on brain biological mechanisms, we selected two types of 'autism spectrum disorder' (ASD, autism) treatment candidates. For one of them, 'NV01-A02', we will submit a domestic phase 2 clinical trial protocol (IND) for autism within this year or at the latest by January of next year."
Shin Chan-young, CEO of Neuroventi, who met with Edaily on the 4th, said, "There is no cure for autism. "We will quickly attempt to enter the field through drug re-creation, which involves discovering new indications for existing drugs," he said.
Neuroventi is a brain and mental health treatment company established as a bio venture within Konkuk University in 2015. CEO Shin, who led the establishment, has served as a professor at Konkuk University Graduate School of Medicine since 2006 after working as a doctoral doctor at Seoul National University's School of Pharmacy and as a postdoctoral researcher at Yale University in the United States. For over 20 years, he has been conducting research in the field of brain health, ranging from 'studying the process of creation and extinction of neural synapses (connection gaps between nerve cells)' to 'studying the relationship between drugs taken by pregnant women and autism'.
CEO Shin said, "When I returned to Korea, there were research papers by some clinicians observing the characteristics of autism patients, but there were no research papers at a basic scientific level." He added, "I created an animal model of autism myself and conducted related basic research." I started crying.
He continued, "We can never overcome the wall of phase 3 clinical trials without a clear scientific foundation. "Based on the brain mechanism research we have conducted so far, we have selected candidate substances with scientific evidence," he explained. "Through this, we are preparing for clinical development of two types of drug candidates and one type of new drug candidate."
Currently, Neuroventi is securing small molecule brain psychiatric disorder treatment candidates, including △NV01-A02 and NV01-A03 (drug repositioning, ready for phase 2 clinical trials) and △NV01-062 (preclinical progress). Among them, NV01-A02 and NV01-A03 are substances that attempt to recreate the indications of existing drugs. According to the company, it has completed registration of additional use patents for these products in Korea and has also applied for related patents under the 'Patent Cooperation Treaty' (PCT).
Neuroventi's highest priority development material is definitely NV01-A02. The substance is being prepared for phase 2 clinical trials at home and abroad for two indications, including autism and 'Fragile X Syndrome' (FXS). Last year, the U.S. Food and Drug Administration (FDA) designated NV01-A02 for FXS indication as an orphan drug (ODD).
CEO Shin said, "We have completed animal testing on the autism-related efficacy of NV01-A02, and plan to apply for a domestic phase 2 IND as early as this year. "Our goal is to recruit patients in the first to second quarters of next year," he said. "Once the drug enters domestic clinical trials, we will also submit related INDs to overseas regulatory agencies such as the U.S. In particular, FXS, which is designated as orphan overseas, will be approved only after completing phase 2 clinical trials." "You can try to apply," he explained.
According to CEO Shin, in order for substances such as serotonin or dopamine to cause neural excitement in the brain, the corresponding hormones must attach to the receptors. It is known that there are 16 and 5 types of serotonin and dopamine receptors, respectively, in the human brain.
He said, "NV01-A02 has multiple mechanisms that act simultaneously on the serotonin and dopamine receptors that operate in the brain," and "It acts simultaneously on two types of dopamine receptors known to be associated with autism and on some serotonin receptors, although they cannot be identified at present." He said. He continued, "Generally speaking, when it comes to two multi-mechanism new drug candidates, the proportion affecting the main mechanism of action is skewed to 80-90%," adding, "The NV01-A02 we discovered has an almost one-to-one ratio for serotonin and dopamine receptors. The advantage is that it has equal impact. "We expect to maximize treatment efficacy," he emphasized.
However, CEO Shin did not mention the specific biological mechanisms of Neuroventi's autism treatment candidates, such as which receptors they specifically act on. This is because if the detailed mechanisms related to drugs such as NV01-A02 or NV01-A03 that are attempted to be recreated are disclosed, there is a possibility that competitors will chase after them. The company announced that it would reveal the mechanism more clearly when the PCT patent registration related to the substances in question is completed or when the phase 2 clinical trial progresses.
Meanwhile, Neuroventi is conducting exploratory clinical trials for 'NV01-E01', an electronic drug candidate for ASD, with 'Newain', a digital therapeutics (electronic medicine) specialist company. In the case of NV01-E01, since it is a medical device, an exploratory clinical trial with about 30 people is completed, and an additional confirmatory clinical trial of a similar scale can be completed to immediately apply for approval.
CEO Shin said, "Electronic drugs for 'Attention Deficit Hyperactivity Disorder' (ADHD) were approved overseas several years ago," and added, "Similarly, if clinical trials of NV01-E01 for ASD are successful, we plan to expand the indication to ADHD." added.
In addition, Neuroventi is conducting a 'consignment development non-clinical trial' (CDRO) service and a business to develop health functional foods based on natural products. From 2016 to present, a total of 500 million won in sales was generated through natural product efficacy evaluation and CDRO of new drug candidates in the fields of depression, ADHD, and Parkinson's disease.
CEO Shin said, "Through Series B, we aim to receive investment (6 to 8 billion won) for the domestic phase 2 clinical trial of NV01-A02," adding, "Separately, we are investing in CDRO related to brain health diseases and natural products related to sleep, etc. "We will also make efforts to expand our own sales through the development of basic health food," he emphasized.
#autism #ASD #Neuroventi #CDRO #electronic medicine