Neuroventi signs a business agreement (MOU) with Core Stem ChemOn
본문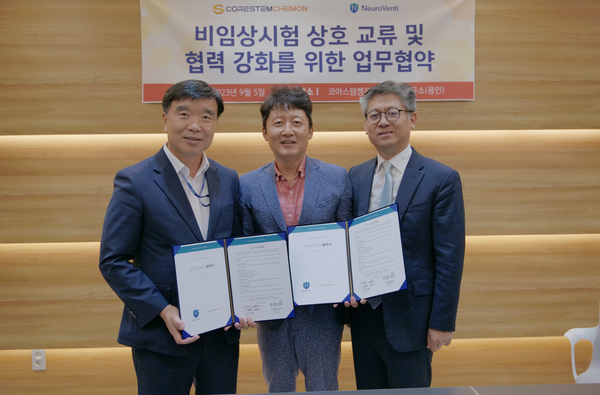 Neuroventi signs a business agreement (MOU) with Core Stem ChemOn
23-09-05
[Farm News = Reporter Seok-Hoon Lee] Neuroventi (CEO Chan-young Shin, Dong-cheol Seo), a company specializing in the development of new drugs for brain development disorders and non-clinical CDRO services for central nervous system diseases, is the non-clinical CRO division of Corestem ChemOn, a company specializing in the development of stem cell treatments and non-clinical CRO (CEOs Chan-young Shin, Dong-cheol Seo) CEO Song Si-hwan) announced today (5th) that they signed a business agreement (MOU) to strengthen mutual exchange and cooperation at the Core Stem Chem On Non-Clinical Research Institute.
Through this business agreement, we can expect not only mutual exchange of drug development infrastructure, but also cooperation for education, research, and consulting purposes, as well as joint hosting of various symposiums, seminars, and academic conferences.
Neuroventi CEO Seo Dong-cheol said, "With this business agreement, we will create a more advanced non-clinical CDRO platform by combining Corestem ChemOn's know-how with Neuroventi's specialized capabilities, the central nervous system disease-based efficacy and addiction evaluation platform and non-clinical CDRO service. "It will be an opportunity to build," he expressed his expectations. This can be interpreted as saying that both companies can try to upgrade their services by combining their respective strengths in relation to non-clinical CDRO services.
Neuroventi is a bio venture company that researches and develops treatments for brain development disorders. Based on its research achievements and experience, it started a non-clinical CDRO project for brain diseases and is currently engaged in the discovery and effectiveness evaluation of treatment candidates in central nervous system disease research. Of course, MOA (mechanism of action) and POC (proof of concept) studies can also be conducted. In particular, it is a company with Korea's highest level of one-stop system that provides everything from non-clinical research consulting to research agency, and has an evaluation platform for the main side effects of the central nervous system, such as dependence, sleep disorders, addiction, and convulsive reactions, and is used by many pharmaceutical and bio companies. The CDRO service is being provided.
Meanwhile, Neuroventi is developing a precise multi-target autism spectrum disorder (ASD) treatment based on the central nervous system disease non-clinical CDRO service platform and is developing 'NV01', a candidate for the treatment of autism spectrum disorder (ASD) and FXS (fragile X syndrome). In October 2022, 'A02' was approved as an orphan drug by the U.S. Food and Drug Administration (FDA) for the first time in the world, and is currently about to apply for an IND (investigational approval) for phase 2 domestic clinical trials for the treatment of autism spectrum disorder.
Corestem ChemOn Co., Ltd.'s non-clinical CRO division is Korea's first private non-clinical CRO company established in 2000. It provides consulting in the early stages of new drug development for domestic and foreign pharmaceutical and bio companies, screening to select candidate substances, and GLP toxicity testing. , which provides international-level non-clinical testing services in small and medium-sized animal efficacy evaluations using imaging equipment, and has received OECD mutual visit evaluation as Korea's representative company for GLP-approved items by the Ministry of Food and Drug Safety, Rural Development Administration, and the Ministry of Environment in 2022. There is a bar.